All Articles
Texas Farm Credit, a rural lending cooperative, recently awarded $10,000 in scholarships to five students across the state through the 2018 Marsha Martin Scholarship Program.
The scholarships honor the memory of Marsha Pyle Martin, a native of Paris, Texas, who at the time of her death in January 2000 was chairman and chief executive officer of the Farm Credit Administration, which regulates the nationwide Farm Credit System. Since 2000, the co-op has presented $136,500 in college scholarships to students who are pursuing agriculture-related fields. Texas Farm Credit also donates $500 to each recipient's 4-H club or FFA chapter.
The recipients of this year's $2,000 scholarships are Cullen Eppright of Gonzales, Elise Hesseltine of Orange Grove, Payton Ramsey of Garrison, Katrina Swope of Anahuac and Brooke Vyvlecka of Jourdanton.
"These young students are the future of agriculture," said Mark Miller, Texas Farm Credit chief executive officer. "It is our pleasure to invest in their futures as they invest in ours, and recognize those students who excel in their FFA chapters and 4-H clubs while they continue to grow and lead in the industry."
Miller noted the students' accomplishments:
Cullen Eppright, a senior at Gonzales High School, is heading to Texas A&M University this fall to study agribusiness. During his years of high school, he served as president of the Gonzales FFA chapter, as well as president of the National High School Rodeo Student and the American Junior Rodeo Association. He aspires to join Corps of Cadets at Texas A&M.
Elise Hesseltine, a senior at Orange Grove High School, will attend Texas Tech University this fall to pursue a degree in animal science. During her senior year, she was named Jim Wells County 4-H Council President and elected to the board of directors of the Texas Junior Simmental Simbrah Association. Valedictorian of her high school class, she was also named to the Texas Volleyball District 31-4A All-Academic Team.
Payton Ramsey, a senior at Garrison High School, plans to attend Texas A&M University this fall to study animal science. While in high school, she was an active FFA and 4-H member, judging livestock for both organizations. She also served as Pineywoods District FFA vice president and showed cattle and goats.
Katrina Swope, a senior at Anahuac High School, is headed to Oklahoma State University this fall to pursue a degree in pre-vet animal science. During her high school years, she served as an FFA district vice president and as president of the Texas Junior Maine-Anjou Association. She was also a member of the National Honor Society.
Brooke Vyvlecka, a senior at Jourdanton High School, plans to attend Texas A&M University to pursue a degree in agricultural leadership and development. She has been active in the FFA, serving as chapter president and as Area X first vice president during her senior year, and as a member of several state qualifying FFA teams. She also was a member of the National Honor Society.
Texas Farm Credit finances agricultural operations, agribusinesses, homes and rural real estate, and offers a variety of insurance services. Headquartered in Robstown, Texas, it serves 100 Texas counties and is part of the Farm Credit System, a nationwide network of rural lending cooperatives established in 1916.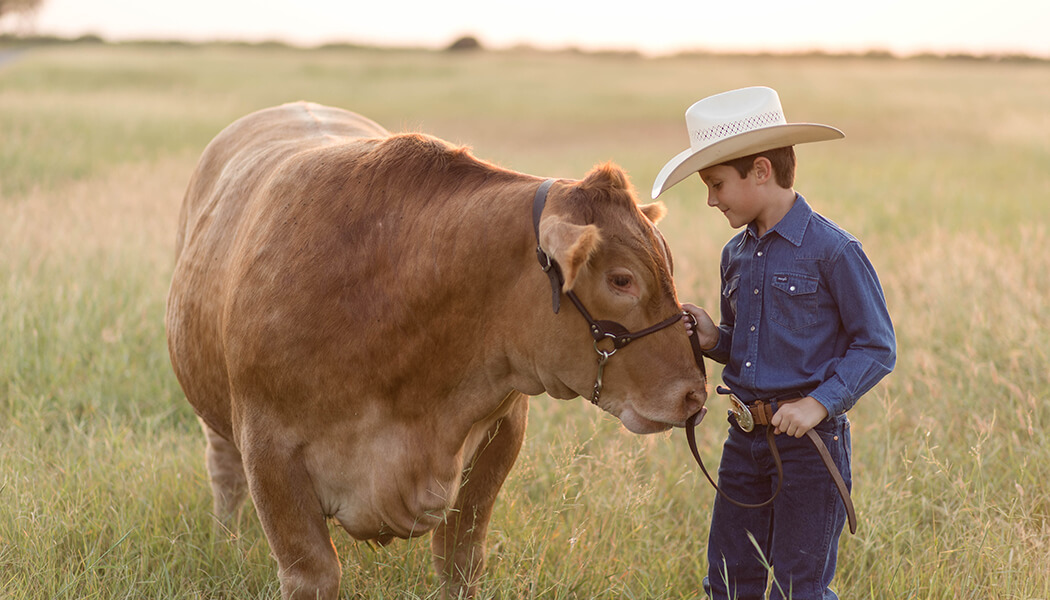 We Are Texas Farm Credit
As part of the nationwide Farm Credit System, we are here for rural communities from the Red River to the Rio Grande Valley. Find out more about who we are and how we serve our members.
Read Our Story