All Articles
Texas Farm Credit has deployed the nCino Bank Operating System to improve and digitize its rural property lending processes. nCino, Inc. is a pioneer in cloud banking and digital transformation solutions for the global financial services industry.
The Challenge
Texas Farm Credit was challenged to meet the changing needs of a diverse and growing customer base in an increasingly crowded agricultural lending marketplace, while saddled with multiple, aging legacy systems.
"We were utilizing about nine different systems in order to originate a loan," says Mark Miller, CEO of Texas Farm Credit. "Those systems were loosely tied together with integrations and middleware. We had to train and onboard employees for months in order to get them really proficient through the entire process. We knew that was costing us a lot of money, it was inefficient, and it was a slow process."
The disjointed legacy loan origination process limited customer engagement and made it difficult to onboard and train new staff.
"It was a very clunky process," says John Parker, Chief Information Officer at TFC. "It was challenging for our end users to deal with, and certainly did not allow us to really engage with our customers very well at all."
"When a new employee started in our legacy systems, they found it difficult to understand how to navigate through many different systems that didn't talk to each other," says Jolene Curtis, Chief Operating Officer at TFC. "Often, they had to do double and triple entry of data, and in many cases, it would take one to two years for our employees to get fully up to speed on these disjointed systems in order to do their jobs efficiently. There was a lot of frustration involved. When an employee doesn't feel like they're good at their job because the systems are so difficult, they're not as happy."
TFC's leadership team sought to reduce the number of systems, eliminate duplicative data entry and streamline the overall loan origination process in order to improve customer service, reduce time to close and simplify how new employees are trained and onboarded. In turn, the Cooperative desired a flexible, digital solution that would be compliant with all Farm Credit System regulations and could scale to meet the future needs of a growing enterprise.
"One of our main goals was to allow our staff to operate in one environment," says John O'Brien, Chief Credit Officer at TFC. "We really were all over the place with regards to different software living in different places."
"Before nCino, we used several different systems throughout our day for different aspects of our job," says Amy West, Credit Manager at TFC. "We used one for our credit reporting, one for OFAC searches, another for accessing current loan information, one for gathering the source documents needed for analysis, and another one to manage our workflow. There were several different systems you had to sign in to, and that had to be mastered."
The Journey
Texas Farm Credit searched for an end-to-end loan origination platform that would allow its farmers, ranchers and rural borrowers to apply online, submit required documents through a self-service electronic portal and support streamlined underwriting, approval and closing processes on the back end.
"We wanted a system that was all built on one platform," Miller says.
Texas Farm Credit evaluated a number of vendors based on three key criteria:
The solution must improve the day-to-day work lives of frontline staff;
The solution must engage customers effectively and efficiently; and
The solution must allow for ongoing maintenance with a small in-house IT staff and little specialized technical expertise.
nCino delivered on all fronts.
"When we added it all together and looked at what nCino would do for the organization in terms of improving our efficiency and customer onboarding, it really was an easy decision," Miller says.
TFC selected the cloud-based nCino Bank Operating System in 2019 and immediately went to work implementing the platform.
"We established a pretty aggressive schedule for implementation," Parker says. "But nCino was successful in getting us through the implementation and to the go-live on time and on budget. Everything worked exactly like it was supposed to."
"Our entire senior management team was very involved in the nCino implementation from day one," Curtis says. "The expertise that the team from nCino brought to the table was incredible. They understood lending, and in fact a lot of them were previously lenders themselves. They helped us challenge things we were doing and offered different ideas for mapping out our processes and deciding how to best configure the nCino platform to fit our needs. It was a really good time to look at our business and let go of some of the legacy processes as well as systems."
"When we went live with nCino, the change management process was easy because everybody on the senior management team bought in," Miller says. "People throughout the organization saw the excitement in our team about what we were about to do, and that excitement became infectious."
"We brought our team together the week prior to roll out and go live for end-user training," Curtis says. "Because nCino is so intuitive and easy to use, it was a real seamless experience for the end users. Once our employees got in the system, it just made sense to them."
TFC went live on the nCino Bank Operating System in February 2020. Six weeks later, the COVID-19 pandemic hit. "Without nCino there's no way that we would have been able to navigate through the COVID-19 pandemic like we have," Curtis says.
"The ability for anyone in the organization to view a loan and pick up and do a particular piece of the process has been incredibly helpful during a time when everybody was working from home without access to the office."
"We were able to hit the ground running," O'Brien adds. "Although COVID-19 created many challenges, nCino kept us on the right trajectory. We were able to accomplish things in 2020, during a pandemic, that we hadn't been able to do any other year."
With roughly 80% of TFC's staff working remotely during the height of the pandemic, nCino's platform enabled the cooperative to continue serving its customers effectively.
"I don't think we could have picked a better time to transition to nCino because when the pandemic hit, we were ready," says Sarah Franklin, Branch Manager at Texas Farm Credit. "Our work lives were turned upside down, and I honestly could not imagine going through something like COVID-19 without nCino because it allowed us to keep working for our customers."
The Solution
To reduce its reliance on multiple, aging legacy software systems in its loan operations, Texas Farm Credit sought an end-to-end digital solution that combines industry-leading functionality, flexible configurability and an intuitive and user-friendly interface. Created by bankers for bankers, nCino's Bank Operating System enables financial institutions of all types and sizes to succeed in today's competitive environment:
Agriculture Lending
Built into nCino's Bank Operating System, the Agriculture Lending Solution provides institutions with a seamless, intuitive platform to onboard, serve and manage agriculture relationships, from beginning to end. nCino's Agriculture Lending Solution utilizes automated workflows throughout each piece of the platform to speed up timely data entry and approval processes.
Custom Reports and Dashboards
nCino Reports and Dashboards provide a 360° view of the entire customer relationship in real time. These tools enable cross- and up-selling opportunities, lead generation, marketing insight, proactive customer support and the opportunity to build long-term, profitable customer relationships. Reports and dashboards centralize data from a financial institution's core and other siloed systems into compelling visuals to improve data presentation and usability
Unparalleled Visibility into the Customer Relationship
nCino's Bank Operating System includes Customer Relationship Management (CRM) and integrates with a financial institution's core and other existing servicing systems, providing a consolidated 360° view of loan operations and customer relationship data. By housing customer and loan information in one place, financial institutions have automatic access to business intelligence and a full range of reports. Although a financial institution may have disparate lines of business, everyone at the institution can share a common CRM platform, access the same data and speak the same language.
Document Exchange and Management
nCino's patented Document Manager (DocMan) is a configurable, integrated and secure content management system which incorporates an institution's policies, processes and document requirements. Access to documents is permission-based, so users can obtain what they need, when they need it through one central location. DocMan eliminates the need for paper files and allows financial institutions to achieve a 100% electronic loan file process.
Customer Portal
nCino's Customer Portal is a customer-facing solution that allows financial institutions and customers to interact directly in a single, digital space. Through Customer Portal, institutions can streamline document collection and account maintenance while maintaining complete transparency throughout the loan lifecycle. Customers can easily view their loan progress, communicate with loan team members and securely track and upload documents. Customer Portal differentiates a financial institution by improving their customers' overall experience.
Flexible Configuration
Due to the Farm Credit System's stringent regulatory requirements and unique borrower attributes, any solution must offer more than simple customization. nCino offers a solution that can be quickly and easily configured to address an institution's specific needs.
A System Built to Scale
nCino's Bank Operating System is designed to grow with the institution. As Texas Farm Credit continues to grow its loan portfolio over time, nCino will be able to add ongoing value and increased efficiency every step of the way.
The Results
Texas Farm Credit went live on the nCino Bank Operating System in February 2020. Since digitally transforming its loan operations through nCino, TFC has achieved the following milestones:
Historic Loan Volume
nCino's industry-leading efficiency and user-friendliness helped TFC achieve this level of growth despite the COVID-19 pandemic.
"We're going to have the best eight or nine months in the history of the Cooperative from a loan portfolio perspective," Miller says. "We've added more volume in the last nine months than we typically add in an entire year, and we're not done yet."
Processed Over 2,000 Servicing Actions
TFC now runs all its servicing actions through the nCino Bank Operating System, resulting in greater efficiency, enhanced visibility and better customer service.
"With nCino's dashboard capability, we have access to a wealth of information, and we run all of our loan servicing actions through nCino," Curtis says. "We can see, in real time, all loan servicing actions that are pending, that are waiting for information, and we're able to monitor that and keep things moving through the system at a pace that we were not able to achieve previously."
Streamlined Employee Training
Since the nCino Bank Operating System is a true end-to-end loan origination and servicing solution featuring an intuitive, easy-tolearn user interface, loan officers, administrators and credit analysts no longer need training on multiple arcane systems and processes to get their jobs done.
"From a process perspective, we've seen a lot of benefits accrue due to the fact there is just one system to learn and to master," West says. "It's cut down on the amount of training needed, as well as the time it takes for someone to get up to speed in the system."
"With nCino, we can now onboard and train our new employees to be functioning pretty proficiently, in many cases within one to two weeks," Curtis says. "The ease of use and ease of training has helped considerably."
Better Employee Engagement
nCino's fully integrated end-to-end platform serves as a single source of truth, providing TFC employees with a streamlined workflow and easy access to customer data.
"nCino has been a breath of fresh air for our Cooperative," Curtis says. "Our users now have a seamless platform to intuitively do their jobs. People are smiling a lot more. It's been exciting to see."
"Our day to day is much easier," West says. "Our workflow is now all within one program, which we configured to meet our needs. As we move forward, if we need to tweak something here or there, we have the flexibility to do so. Change is hard, but everyone has really embraced nCino with open arms because it is so easy to use."
Improved Customer Experience
With innovative features like DocMan, Customer Portal and Online Applications, the nCino Bank Operating System empowers Texas Farm Credit to focus on providing outstanding service to its rural and agricultural borrowers.
"We survey every customer that closes a transaction or loan with us, and our net promoter score is extremely high," Curtis says. "Our customers really like the ease of use of the online application. Through Customer Portal, our borrowers can electronically exchange documents with us instead of having to fax, email or physically bring those documents into the office, and they can check on the status of their loan any time they want."
"Whenever a customer calls in, whoever picks up the phone is able to tell that customer where their loan is in the pipeline, and what will happen next," Franklin says.
Enhanced Operational Efficiency
This newly gained efficiency significantly reduced the need for redundant, manual data entry, and in turn, sped up the loan process, minimized human error and improved crossfunctional communication.
"We used to be in so many different programs to get from application to closing to servicing over the life of the loan," says Elizabeth Moore, Senior Loan Administrator with Texas Farm Credit. "After nCino, we're in one platform from beginning to end, and that makes it a much more streamlined, efficient and transparent process."
Rapid Speed to Market
As Texas Farm Credit grows, it needs a system that will grow alongside it. nCino's renowned configurability allows for the Cooperative to introduce internal process improvements and new products to the market in record time.
"Historically, with the legacy systems we were using, it would take two to three months to make a change to a process and roll it out to our users," Curtis says. "Now, with nCino, we can do that in a matter of minutes or days. We're able to listen to our users and customers, understand the marketplace, and make changes to our system to meet those constantly changing needs. nCino is an adaptable platform that enables us to evolve to meet our current and future needs."
"Because of the work nCino does in research and development, we can leverage their innovation, take advantage of enhancements and configure the product, all with a really small internal technical team," states Parker.
Better Regulatory Compliance
nCino's Bank Operating System helps financial institutions more effectively manage internal policies, the examination process and overall compliance. nCino integrates with a financial institution's core accounting system along with other disparate systems of record, centralizing data and giving enterprise-wide access to the information via detailed reporting. Compliance with various state, federal and internal policies is facilitated through each component of the nCino Bank Operating System.
"From a regulatory compliance standpoint," O'Brien says, "nCino has been a lifesaver. Previously, we implemented multiple stop gaps, dual controls and other highly intensive measures to ensure that we weren't missing anything. Now with nCino, hard stops are built right into the system to make sure that the roles conform with their responsibilities."
Enhanced Visibility and Transparency
Through deep data insights, on-demand reporting and easy-to-use dashboards, nCino empowers Texas Farm Credit's leadership team to manage risk across its entire loan portfolio. With real-time trend and volume reports available at the click of a button, management can track the loan pipeline and critical service metrics like time to approval and time to close, on demand.
"I didn't really realize how much synergy nCino would give the management team," O'Brien says. "Now, in our regular management meetings, we don't have to go through the details of our loan pipeline or portfolio concentrations since everybody already sees up-to-date, live information daily, or whenever they hit the refresh button. It's helped with our board reporting, as well. The entire management team is plugged in and has the information at their fingertips."
"The nCino dashboard allows for greater transparency within the office," Franklin says. "At any given point, any staff member can view our dashboard and see where a loan is in the pipeline or in the servicing process, or really anything that's going on with any of our customer relationships. It allows more cohesiveness at the staff level, so we're able to work better together."
Better Document Tracking and Collateral Management
Through nCino's patented DocMan feature, users can access what they need when they need it through one central location. DocMan replaces antiquated paper files with a fully electronic loan file process, resulting in greater efficiency and transparency throughout the organization.
"I've been with Texas Farm Credit for 15 years," West says. "When I first started, we had rows and rows of filing cabinets. Today with nCino, we've evolved to where we have no filing cabinets, and everything is electronic."
nCino Supports TFC's Bright Vision for the Future
The agricultural lending industry is changing rapidly, and CEO Mark Miller is committed to ensuring Texas Farm Credit maintains pace with the competition and the needs of a diverse customer base. The deployment of flexible, configurable user-friendly technology like the nCino Bank Operating System will play a huge role in that transformation.
"I want to make sure we continue to remain technologically relevant as an organization," Miller says. "Up until now, our vision for the future was limited by the things that our 130 employees could come up with. When we partnered with nCino, they brought 1,000+ additional minds to the table that come with the deal. And those minds wake up every morning trying to make the nCino product even better."
nCino is focused on helping agricultural lenders like Texas Farm Credit achieve all their goals in a dynamic and rapidly evolving industry.
"As an organization, we are blessed with great employees and amazing customers," Parker says. "I think the future for Texas Farm Credit is extremely bright. Being associated with such an innovative company like nCino will allow us to grow and develop in ways we never dreamed were possible. We're excited about the future. We're excited about where nCino is headed. And we're thankful to be in this relationship together."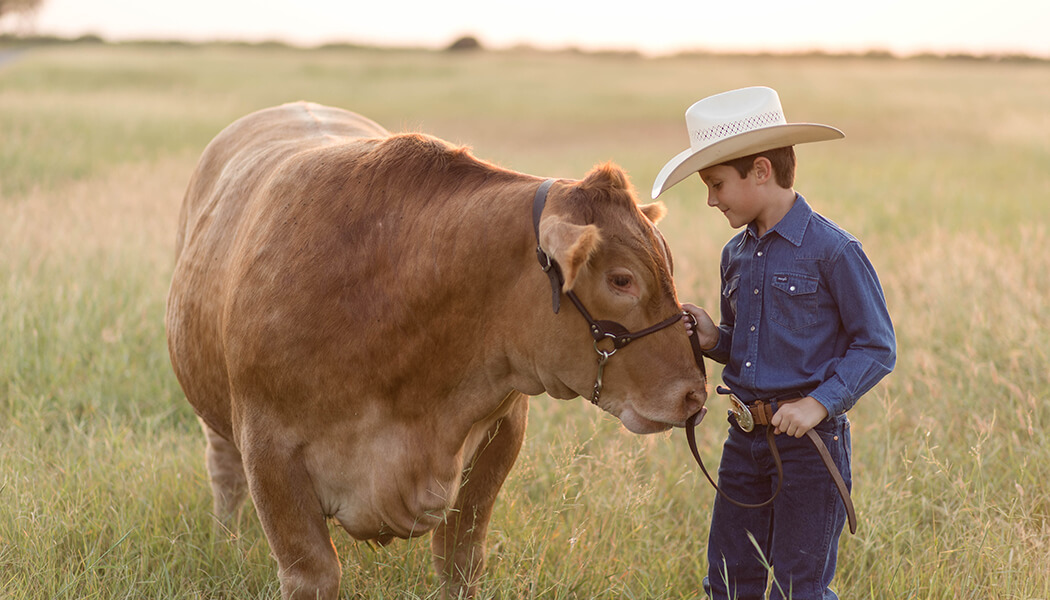 We Are Texas Farm Credit
As part of the nationwide Farm Credit System, we are here for rural communities from the Red River to the Rio Grande Valley. Find out more about who we are and how we serve our members.
Read Our Story