All Articles
A Texas farm family says Farm Credit was one of the missing pieces that helped their operation grow.
Like most people, Texas farmer Rollin Mangold didn't like shopping for a bank. He didn't have time for it, and because his family had financed with a local bank for generations, it didn't occur to him to change lenders — until the local bank was sold.
Luckily for Rollin, he still didn't have to shop for financing; financing came looking for him.
A local businessman and friend suggested Rollin visit with a Texas Farm Credit loan officer.
"We made him explain a lot before we did anything," Rollin says emphatically, recalling the number of questions he threw at the loan officer. "And he did a good job, and we've been there ever since."
For the Mangolds — Rollin, his wife, Dawn, and his nephew Matthew — having dependable and available financing with the Farm Credit cooperative came at a perfect time, one of a few factors that allowed them to rapidly grow their diversified farming operation near La Coste, Texas.
"Commodity prices were strong. We picked up some additional lease land, and having the financing to back all that was a big thing," Dawn says. "It really all happened at the same time that we got on board with Texas Farm Credit. It all just rolled together."
Farming on the Edge of a Growing City
A third-generation farmer, Rollin says he grew up knowing production agriculture would be his life's work. The same was true for Matthew. The two men grow corn, cotton, wheat, oats, grain sorghum, sunflowers and vegetables, farming both jointly and separately.
"Corn is my favorite crop to grow," Rollin says. "Corn will tell you anything that's wrong with it, if you know how to read it. Just the color and the location of the discoloration on the leaves can tell you what it is deficient in, but we don't want to see any discoloration. To me, it's the easiest and it's always the most fun to harvest. I like watching Matt make the combine roll, especially when a lot of trucks are rolling out of the field."
Because of their 25-mile proximity to San Antonio, urban sprawl has forced the Mangolds to rely on leased land to grow their operation — but there has been no shortage of property to lease.
"We had to grow to maintain, if that makes any sense," Rollin says. "A lot of the places around here are small, the property values are going up, and a lot of the mare for sale. I see a day when some of the land we lease will be sold, and if we can afford it, we will definitely be calling on Texas Farm Credit to help us. And if it'snot meant to be, we will have other parcels of land to back it up. We're just trying to protect our livelihood."
While they are multigenerational farmers, Rollin and Matthew didn't inherit any land. However, they still lease most of the property that Rollin's parents farmed, maintaining important relationships with other local landowners.
"We've been asked to farm almost every piece we've got," he says. "We don't go hunting for it."
Staying out of Equipment Debt
As is the case with most farming operations, equipment is an important part of the Mangolds' operation. Dawn still recalls an early meeting with their first Texas Farm Credit loan officer, who recommended that they minimize their equipment debt.
"That was the best advice he ever gave you," Dawn tells her husband. "That first year, I don't know how much money we saved on interest, but it was ridiculous. And so then you kick yourself for waiting so long to make a change. But we're creatures of habit. You get up and roll along the way it is."
Rollin, who loves machinery and tinkering with it, quickly agrees.
"He taught us a lot early on, and we did have a lot of equipment debt when we started with Texas Farm Credit," he says."We also had a terrible note on our house with the way it was structured, but we straightened all that out and made it better."
While he still heeds his first loan officer's advice, Rollin tries to find a balance between expense and efficiency. Last year, he upgraded his cotton harvest equipment with an advanced cotton picker-baler that reduces harvest time — a huge difference maker when weather is your biggest enemy. Last August for instance, when Hurricane Harvey was approaching Texas, Rollin traveled down to the Gulf Coast, a high-producing cotton area, to help fellow producers with their harvest before the storm hit.
"When it's time to get it, you got to get it —today might be good, but a week from now it might be a different story," Rollin says."A cotton crop is most at risk when it's defoliated, and the weather can really affect it. I can only imagine what some of those guys went through."
Dawn points out other ways that their family, which includes 9-year-old son Walt, benefits from the technology and more efficient equipment.
"Not only is the speed of getting the crop out probably the biggest incentive to offset the cost, but we have the extra time to spend together, and Rollin's not worried about it out in the field," she says. "Our motto at home is 'Farm Family,' and we're ever proud of it! We teach Walt the importance of what that is, the good parts and the difficult ones, because they're true life lessons for us to learn from and to pass down."
Doing Business at the Kitchen Table
The Mangolds have a new loan officer now, Pleasanton Branch Manager Sarah Franklin, and they value their relationship with her and the lending co-op as much as ever. It's not uncommon for Sarah to make the one-hour drive from her office to the Mangolds' house, where she's greeted with warm hugs before they discuss business, seated around the kitchen table.
"We've had several banks approach us to try to get our business for our operating notes in the last couple years, but they can't compete with what Texas Farm Credit offers," Dawn says. "Not just on interest rates, but with the ease of doing business."
Sarah says that being a reliable and convenient financial partner is just part of her job, and it reflects the way that Farm Credit lenders respect their customers' daily toil.
"Just to be a farmer is such a brave thing, because your living is based on so many things that you cannot control," she says. "And we understand that, and it's why I do what I do for people like the Mangolds."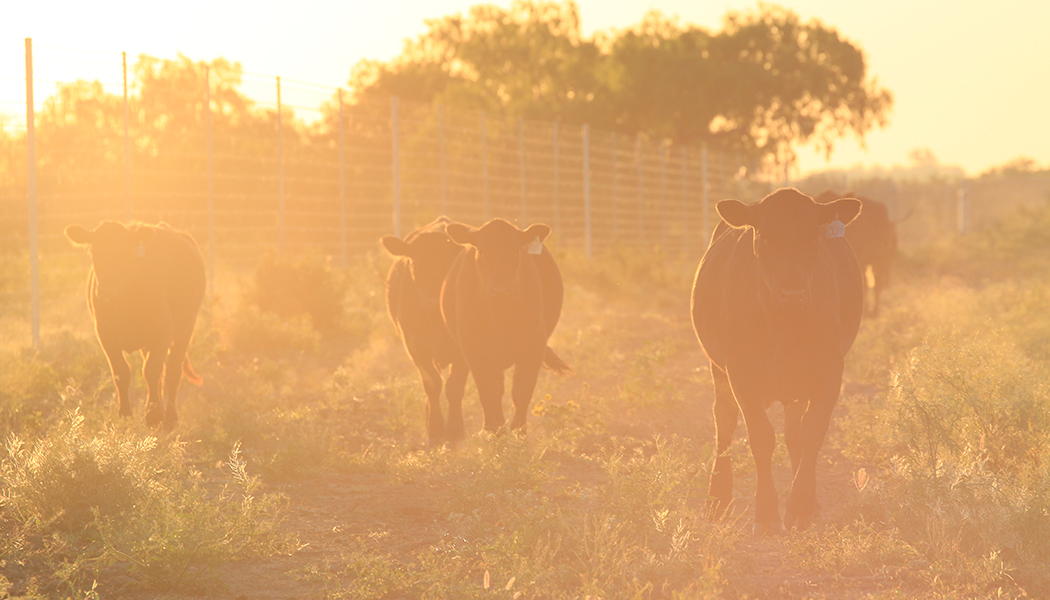 Have Questions?
Contact us to get more information beyond this article, or to let us know what else you'd like us to feature in the Resource Center!
Let's Connect